Under The Big Sky Line-up Announce 2020
Jason Isbell And The 400 Unit, Tyler Childers, EmmyLou Harris, Head And The Heart, Brothers Osborne, Colter Wall, Shovels & Rope, Lukas Nelson & Promise Of The Real, Billy Strings, Jade Bird and Many More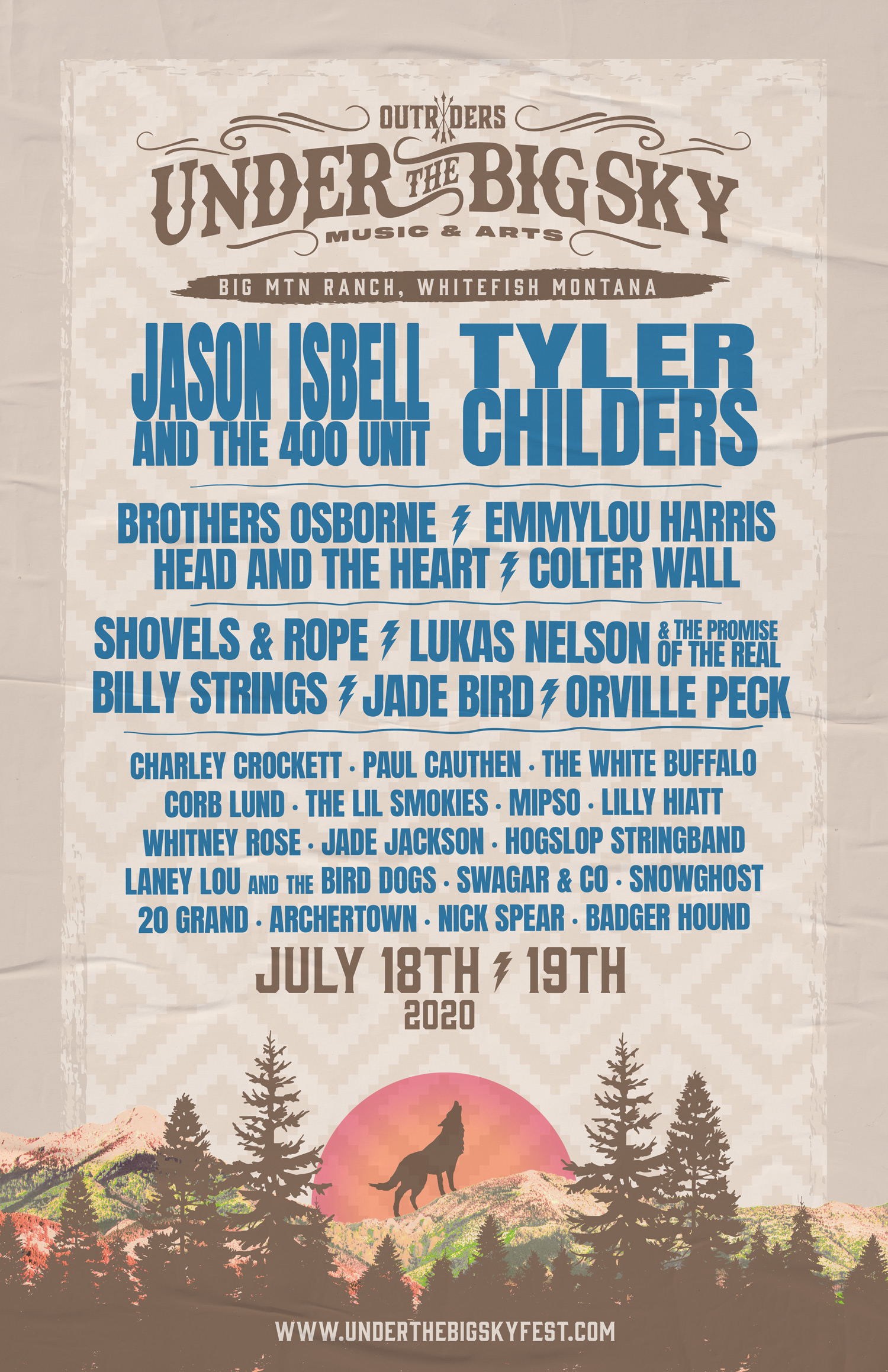 After drawing over 30,000 people to its debut 2019 edition, Under The Big Sky today revealed the line-up for its 2020 festival, returning to the picture perfect Big Mountain Ranch July 2020.
Under The Big Sky will showcase the very best in Americana, folk, alt-country and rock across two beautiful stages in the heart of one of America's most unspoiled and pristine regions of natural wilderness. The festival pairs cutting edge emerging voices and talents with musical icons, creating a unique showcase for the diverse strains of American music today.
New for this year, will be a camping option, at a neighboring ranch, with shuttle service running to and from the festival site. A bike valet will also be available on-site.
Alabama native Jason Isbell leads the line-up, sharing the uniquely honest and personal songs that have seen him win four Grammys. He's joined by EmmyLou Harris, a name that needs no introduction, a giant in country music, with Grammy wins in each of the last five decades. Harris is an unmissable force. While Tyler Childers is a star burning bright following the release of his LP Country Squire; produced by the legendary Sturgill Simpson, the album is steeped in the deep traditions of Kentucky bluegrass and country.
Head And The Heart are legitimate superstars, the Seattle band have charted an ever upward trajectory, that has seen them push beyond the constraints of genre, and emerge as one of the most unique American voices in modern pop. They are a unique contrast to Brothers Osborn, a rising force in country music, whose potent no-bull mixture of rambunctious Southern rock and traditional balladry has earned them six Grammy nominations, 11 CMA nominations and seen them become critic's darlings and fan favorites.
Canada will be represented by several acts on the line-up including Colter Wall, a husky, baritone whose Western music from the prairies of Saskatchewan encompass traditional folk and country. While Lukas Nelson will bring his Californian country rock to Montana, following his successful turn co-writing and producing much of the Oscar winning soundtrack for A Star Is Born.
While championing boundary-pushing established names, Under The Big Sky is also eager to seek out the voices that are helping to re-invigorate and re-define American music.
Billy Strings is one of bluegrass' rising stars, an electrifying guitarist and frontman, whose presence and talent belies his young age.
Charleston husband and wife duo Shovels & Rope are pushing the boundaries of what folk can be, appealing to genre purists, but also mining folk traditions and history with a view to upset convention and create something that feels entirely new.
Jade Bird's talent belies her young age. The 21 yr old UK artist notched a 2018 Billboard Alt #1 last year with Lottery, and followed that with her debut LP Jade Bird this year. Her raspy voice powerhouse guitar and uniquely fearless take on Americana have helped her win over critics young and old, and sell outs shows here and across the pond.
Further down the line-up is Whitney Rose, one of Canada's emerging talents, a sultry country classicist with a tremble in her voice. String quartet Mipso, working within tradition, but bringing contemporary arrangements and song-writing to re-define what an Americana band means today. Texans Paul Cauthen and Charley Crockett, the California songwriter The White Buffalo, Nashville's Lilly Hiatt, the punk influenced Jade Jackson, New Jersey country duo Archertown and the riotous returning favorites Hogslop String Band.
Under the Big Sky will also continue its commitment to championing local music talent. Montana's Lil Smokies and Swagar & Co, return along with Alberta's Corb Lund, stompgrass favorites Laney Lou & The Bird Dogs, Whitefish's Snowghost, local funk band 20 Grand, singer songwriter Nick Spear and rock band Badger Hound round out the big sky artists on the bill.
Under The Big Sky is held on Big Mountain Ranch, a 350 acre working farm located just over a mile East of the city limits of Whitefish. Whitefish's local music venues will again host intimate post-fest events with artists playing the festival.
The ranch has 180 degree views of Whitefish Ski Resort's mountains. This is the heart of Big Sky country and one of Montana's most beautiful regions. Accompanying the musical programming and giving visitors an authentic Montana experience, will be a rough stock rodeo produced by Brash Rodeo, as well as trail riding opportunities in and around the ranch.
Under The Big Sky ia an all ages event, with children under six able to enter for free. Food and beverage will be a curated collaboration between the notable Whitefish restaurateur Pat Carloss and his team and Best Beverage Catering, who provide catering for Coachella, Stagecoach, BottleRock and many other major festivals. VIP experiences and seating will be offered, with a bespoke VIP food and beverage program.